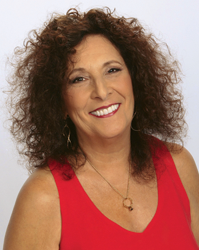 Aimee Bernstein is President of Open Mind Adventures™. Her work empowers people to lead and live more authentically, enabling them to reach higher levels of performance and forge stronger relationships.
She assists senior and emerging leaders in: refining their leadership vision, skills and presence; working effectively with diverse perspectives and agendas; managing organizational change, and engaging and uniting their teams and communities.
Aimee received her degrees from Boston University and Hunter College of the City of New York. Aimee performed her graduate school internship in counseling psychology at Massachusetts General Hospital under the auspices of Harvard Medical School. She is a California licensed psychotherapist with over thirty years of experience. A student of aikido since 1978, she guides her clients in applying its principles to promote high performance states and the harmonious resolution of conflict. Aimee's specific interest lies in managing change through expanding one's thinking, emotional intelligence and ability to perform under pressure. Her work helps organizations deal with people's resistance to change, assisting them in developing an engaged, committed workforce capable of achieving extraordinary results.
In 1984 Aimee founded The Women's Development Company in San Francisco, California–one of the first of its kind–which provided coaching, training and mentoring to help women break through the glass ceiling. Since then, Aimee has worked with various women's educational organizations, non-profits and corporations in developing women leaders.
Aimee is a skilled facilitator and an internationally acclaimed speaker. She passionately articulates her message through stories and illustrates through her body the key elements of her work. As a former professional singer (who performed with Lionel Hampton and was part of a front act group for such notables as Crosby, Stills & Nash, and spiritual guru, Ram Dass,) Ms. Bernstein is very comfortable speaking in front of thousands of people. Aimee easily develops rapport with her audience and keeps them captivated. She has applied this skill to corporate settings, presenting large group change processes for six hundred to one thousand people at a time in such locations as Florida, Tennessee, California and Singapore.
Aimee is listed in Who's Who in American Women. She has been interviewed on San Francisco's KCBS Radio and South Florida's Innerviews radio show. Aimee has been featured in The San Francisco Examiner, South Florida Sun Sentinel, Miami Herald, Marin Independent Journal and Oakland Tribune. Her articles have been published in such periodicals as the Women's' Business Journal, Perspectives– the periodical of the World Business Academy, me*Magazine, What Is True Wealth and How Do We Create It, and in Holistic Health Magazine.